I've just returned from a week in London, where the buzz is all about the recent opening of
discount retailer Primark's big flagship
on Oxford Street. The reason people go nuts about this store is that it offers copies of designer items at knock-down prices, like the Marc Jacobs inspired jacket below, which costs just £12 (at current exchange rates, that is $24 or 18 euros).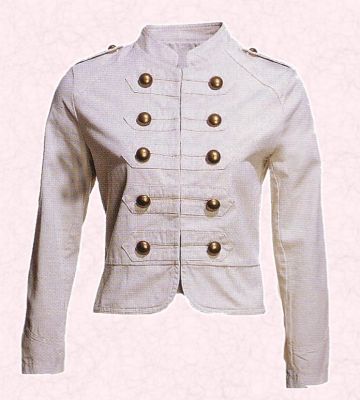 This Primark jacket was featured in Vogue, raising the company's profile among fashion-conscious consumers
But nothing can prepare you for the real experience...We arrived to find a queue stretching around the block just to get into the store. There were 10 security guards in the street corralling the crowds. The wait was only a couple of minutes, but once inside, I could hardly focus for the noise and people around me. Everything seemed to blur and all I could do was clutch price-tags and let out the occasional gasp of: "Four pounds!! Eight pounds??" The quality of the fabrics was pretty dysmal, except for the T-shirts which are really practical for summer, but the trick is in finding the hidden "IT" item among the tat.
Primark does the 60s look
Sadly, on the day I was there all I spotted was a multipack of black socks for £2, but when I saw the size of the queue at the till, I put them right back on the rack.