I'm counting the days until the Roland Mouret collection goes on sale at the Gap - mark Nov. 7 in your diary! I've finally had a sneak preview of the dresses, courtesy of French Elle.
Models present the outfits at a press breakfast
Consisting mainly of tunics, they are not quite as exciting as I expected, but then they chose to photograph the clothes on models who are prancing around, so it's hard to tell how they fall. There is one sharp-shouldered number very much in the spirit of the Galaxy that is definitely worth a snoop.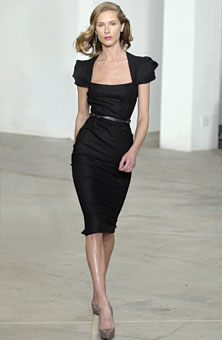 The Galaxy dress
The Mouret collection features 10 dresses, ranging in price from $85 to $150. It will be sold at 160 Gaps in the U.K., Ireland and France and should hit the New York stores a few weeks later. I have found this season's offerings from Gap really disappointing, except for the stretch jersey polonecks which I have bought in black and grey (they look really great layered under a short-sleeved dress or with an oversized V-neck sweater with cropped sleeves). This could have a similar effect for the chain as the Karl Lagerfeld collection for H&M. In addition, part of the profits will go to The Global Fund to Fight AIDS, tuberculosis and malaria, so you don't even have to feel guilty.